Sierra Spiral Dancers (above)
The Sierra Spiral Dancers are a Tribal Fusion Belly Dance Troupe. As an ever-evolving caravan of performers, you can expect to see dancers that include all ages and come from a variety of ethnic and dance backgrounds.

Troupe Director "Neshamah" has been dancing for over 30 years. With 11 years of Turkish and Egyptian-focused training and a diverse continuing education of workshops and classes, she founded the Sierra Spiral Dance Circle in 2001. Her choreography creates the stunning foundation of their performances. With music and dances that transcend cultural barriers, the Sierra Spiral Dancers perform intricate group and solo dances armed with a variety of props including veils, swords, snakes, and staffs to create a truly extraordinary experience.

Since 2001, this troupe been dancing and performing all around Northern California including, Karfluki Fest, Fade to Black, Rakkasah, Modesto International Festival, Tribal Fest and Desert Dance as well as many other local festivals and events.

This will be their sixth year performing in their hometown at the Calaveras Celtic Faire and the International Jousting Championships.

[www.sierraspiraldancers.com].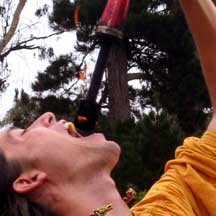 Trey Cromwell, Professional Showoff!
Professional Showoff!, the hottest new act on the festival circuit, has been touring California since May of 2004, and has appeared across the country at events such as The Las Vegas Renaissance Festival, The Golden Gate Renaissance Faire in San Francisco, and The North Carolina Renaissance Faire in Raleigh. A mix of traditional variety arts, Professional Showoff! blends juggling, escape artistry, contortion and fire manipulation in a seamless danger show!
[www.treycromwell.com]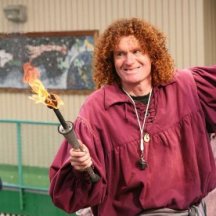 Chris Yates

Performances include vaudeville variety routines featuring a unique blend of comic juggling, props, magic, music, audience involvement and more. Delivered with a theatrical flair and a unique "down under"/ British Empire flavour, these acts pay homage to variety acts from centuries past, whilst delivering a modern edge, being not unlike what one may see performed at the Edinburgh International Fringe Festival; Convent Garden, London; or Pier 39 San Francisco.
[www.rustyhappenings.com].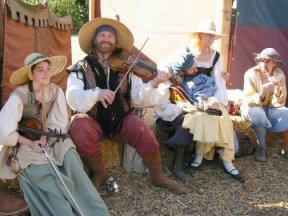 Merrie Pryanksters
[www.pryanksters.org]

Out of Kontrol Jugglers
[www.ookjugglers.com]