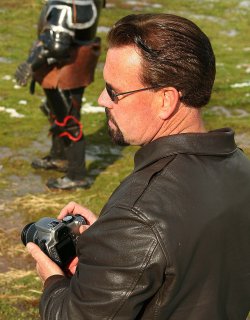 Producer, Music Coordinator, The Big Kahuna, and our Fearless Leader
Patrick Karnahan (email)
Patrick Karnahan founded the Calaveras Celtic Faire in 1987. At the time the faire was held in Sonora, Ca, just across the river from its current home. Eventually the faire outgrew the fairgrounds in Sonora and moved to its new location in Calaveras County. Patrick is also known for his music with the Black Irish Band as well as his artwork.
Vendor Coordinators
Genevieve & Jeff Pearson (email)
Please Note: We are no longer accepting vendor applications for clothing, jewelry, or weapons vendors.
Genevieve and Jeff have been vendor coordinators for many years. In those years, they have been able to bring many of the countries best vendors to the faire, bringing with them a wide variety of wares from musical instruments armor and swords. In addition to coordinating the faire's vendors, the two handle a large part of the faire "business" such as lodging, contracts etc.
Reenactment & Clan Coordinator
Marti Miernik (email)
Martiís involvement in Renaissance faires and Celtic events spans 13 years. She had a hand in production and management of numerous successful events including those in Redding, Pittsburgh, Pleasanton, San Jose, Calaveras, Sonora, and San Diego and now a new one scheduled to appear in San Francisco. Most recently she took upon the co-management of St. Mariens Guild based in San Jose Ca. Till the end of last year she was an assistant guild mistress for the Guild of St. Andrews a premiere Scottish court group in California. In addition to working and (co)managing both guilds, she portrays the prominent role of Her Royal Majesty Mary Stuart and Her Highness Marta Von Mier Jagiellonska at faires throughout the west coast.
Weapons Tournament Coordinator & Re-enactment Site Layout Manager
Bill Watters (email)
Bill Watters is a well-known and respected event producer and promoter, whose experience in Renaissance-themed events spans 20 years. He has worked at a management level of over a dozen events in 5 states. He specializes in pre-event layout and planning, and during-event management and operations. He is especially well knows for his ability to coordinate exceptional battle pageants. For the last three years, Bill has also been managing Guild of St. Maria, Bay Area-based Italian Reenactment guild. Bill is also the President Renaissance Productions and most recently he has been appointed as President of CIRGA.
Volunteer Coordinator
Mariah (email)
Mariah started with the Celtic Faire as a volunteer, later joining the ranks of the Calaveras Celtic Faire Workhorses. Mariah took on the role of Volunteer Coordinator for the Celtic Faire in September of 2006.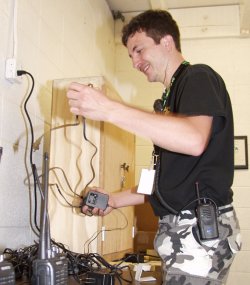 Operations Manager, Webmaster
Jemiah Westerman (email)
Jemiah Westerman started working at the faire as a volunteer at the age of 14. He is now the faire operations manager, running the faire from setup through tear down. He also created and maintains the faire's web site.